Starting Your Own Water Taxi Service
For some reason, there are feelings of leisure and luxury that's associated with being on the water. Maybe it's because when you're out on the water you virtually have no care in the world. You're away from your problems and are left with the serenity of the ocean, lake, or river. Whatever the reason is, most people will be naturally drawn to it. Which is why starting a business out on the water would likely be the best investment you could ever make in your life. And what better way to receive a steady flow of money than to start your own water taxi service?
Owning your own water taxi service definitely has its perks. The main one being that you'll almost always have someone wanting a ride. Of course, this is only a guarantee if you're near a source of water surrounded by a bustling community. Some examples would be Miami's Intracoastal and beaches and Washington D.C.'s Anacostia River. If you're near a busy ocean, river, harbor, etc. then you should consider starting your own water taxi service.
There are many things to consider when you start your own water taxi business. For one, there's the startup cost. And then there are methods you'll need to devise to make your business profitable. But, and most importantly, you'll need to figure out which vehicle you'll need to use. This all seems complicated but there are simple solutions to these questions. One of which includes utilizing the Hysucat Eco-Capsule 8500.
Continue reading below to see how you can begin running your very own water taxi service.
Startup & Ongoing Costs
This is probably the first thing you'll consider when deciding to start a water taxi service. How much money will you need to invest to start this business? There's a certain range for this: it goes from $10,000 – $50,000. And depending on how much you want to put in may or may not determine how soon you'll begin making profits. That, of course, all depends on how well you plan out your service. You don't want to dive in, invest too much money, and hope you'll make a lot of money. Consider how you can easily reach your profit goal with your investment. One key element to making your profit is by differentiating yourself from the competition. What can you do or offer that no other water taxi service has done before? This typically is the ultimate factor that can make you a lot of money.
There might be quite a few ongoing costs you'll need to consider when running a taxi service. But the main two to keep in mind are fuel and maintenance. How much fuel will you be using each day and how much will you need to pay for it? And because your vehicle will constantly be in contact with the water, certain elements will potentially hinder its appearance and function. One cost-effective solution to maintenance is to get your boat wrapped; it will help preserve the paint underneath and prevent costly repairs or refurbishing.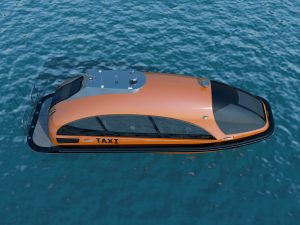 If you're looking to save on gas a little then the Eco-Capsule 8500 might be for you. It's 40% more efficient than other vehicles of its size and doesn't need much power to cover long ranges. If you want to learn more about its specs, click here.
Target Audience & Market
The great thing about owning a water taxi service is that your target audience can be very broad. Many people use water taxis; tourists, commuters, those who are seeking leisure, and so on. If you're really innovative, you can offer a service never before done on a water taxi and advertise towards a specific audience that will pay handsomely. Otherwise, it's practically guaranteed that you'll make enough profit soon enough. Water taxis are a service that's always in demand and is used nearly every day.
How Much Should You Charge?
That all depends on location, the number of passengers you can seat, and your operating hours. If you own a huge water taxi that can seat numerous people, you might only need to charge as little as $5 per person – assuming you're in operation for at least 8 hours of the day. The Eco-Capsule 8500 can seat 10 people, so you would need to bump up the price from $5 to something higher per passenger. But if you live in a city where prestige stands out as one of the dominant qualities, the Eco-Capsule 8500 is sure to keep your business running. Miami is an excellent example of where this Hysucat vessel can bring you profit. The Eco-Capsule 8500 has a sleek and luxurious exterior and interior, making it a guarantee that a classy Miami resident or even a tourist will want to ride in it.
Keeping your Business Profitable
Like any other business, a special offer or event is sure to keep the stream of profits running. When you own your Eco-Capsule 8500, make sure to offer dates for special activities/events. These dates could encompass specific tours through a city/intercoastal or an excursion for patrons to enjoy. It would also help if you could offer drinks to passengers on the boat. Selling alcohol on a water vehicle would require a special license but it's worth it.
Starting Your Own Water Taxi Service? Contact Hysucat Today
If you think you want to start your own water taxi service and are in need of a special vehicle, then contact the professionals of Hysucat today. A few years back the design team of Hysucat and Sabdes created a special transportation vessel known as the Eco-Capsule 8500. This boat is specially designed for owners to run a smooth water taxi service and for patrons to enjoy while they're out on a ride. If interested call us at (252) 923-0430 or visit our contact page.